Seaside - housing rental possibilities for Thanksgiving
These photos, and all descriptions, are taken from the rental brochures. There is only the small version of the photos - you can't get a larger version by clicking on the small version.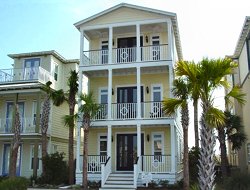 This beautifully designed 3-story, 4 bedroom beach house has plenty of room for the whole family. On the 2nd floor are 2 large bedrooms with their own private bath and porch. The palm tree lined sidewalks are inviting for a casual stroll or enjoy swimming in the largest community pool in the area. Great gulf views from numerous porches facing Hwy 30-A. Sunday to Sunday rental in season. Parking for 2 (two) vehicles.
This house is called "Second Look" and it's on the north side.
Sleeps 11:
4 Baths
2 King Beds
1 Queen Bed
2 Twin Beds
1 Queen (Sleeper)
1 Small Sleeper
Amenities:
Beach chairs
Pool
Washer/dryer
2 VCP/VCRs (what is a VCP? --mrm)
5 TVs, 5 DVDs
Grill
Whirlpool tub
Stereo/CD for your favorite Zappa and/or Mozart
More photos:
Community pool
View second floor
Living area
Living area optional view (no idea what this means! --mrm)
Dining area
Kitchen
Twin Bedroom 1st Floor
Guest Bathroom 1st Floor
Queen Bedroom 2nd Floor
King Bedroon 2nd Floor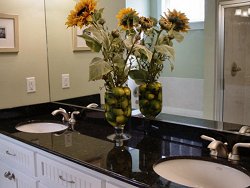 King Bathroom 2nd Floor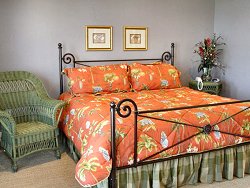 Master King Bedroom 3rd Floor
Master King Bathroom 3rd Floor
View 3rd Floor
---
This house is called A Sea Dream and it's on the north side. You will love the unique style of this newly built beach house. A spacious greatroom and 2 king bedrooms on the first floor, a king bedroom on the second floor along with 2 daybeds and 2 trundles on the third floor tower room make this vacation getaway perfect for that large family gathering. Lounge by the 12,000 sq ft community pool, take a tram ride to the beach or take a short walk across C-30A to the beach.Sat to Sat rental.Parking 3
Sleeps 12:
3 Baths
3 King Beds
4 Twin Beds
1 Queen (Sleeper)
Amenities:
Beach chairs
Pool
Washer/dryer
4 TVs, 4 VCP/VCRs, 1 DVD
Grill
Whirlpool tub
Stereo CD
More photos:
Seacrest Beach Community Pool
3rd Floor View
Living Area - Left Side
Living Area - Right Side
Dining Area
Kitchen
Master King - 1st Floor
Guest King - 1st Floor
Daybed & Trundle - 1st Floor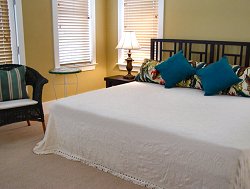 King Bedroom - 2nd Floor
Tower Daybed & Trundle Bedroom- Left Side (what is a Tower Daybed? --mrm)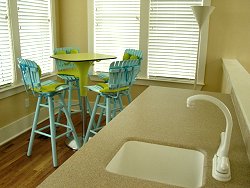 Tower Bedroom - Right Side (Oh, I get it, it's in the tower. --mrm)
---
Marianne Mueller Last modified: July 21, 2005